It's about damn time!
A)  The City of St. Louis delivered my recycling dumpster this morning.  Yay me.  Now they'll collect garbage once a week, recycling once a week, and yard waste once a week.  I used to pay a local recycling company to collect my recyclables, but when my recycling day (Monday) coincided with so many holidays one year that my collections were reduced by 15% and they basically told me tough toe-nails, I quit paying them to abuse me.  Since then, my recycling has been haphazard, as in when I wanted to schlep it to the city recycling center nearby.  Not any more.  
B) Baby's birthday sweater is nearly finished.  Most of one sleeve to go and then piecing.  Today?  Maybe.  It's his actual birthday after all.  On my monitor, this yarn looks pinkish and I can't seem to get that straightened out.  It's more maroon, or claret.  I have to say that making the push to finish this sweater in this yarn has given me a repetitive stress injury to the tendon in my elbow.  Inflexible yarn plus heavy cabling equals elbow problems.  Good to know.  Ice helps and I'll be just fine.  On the bright side, my chiropractor is enjoying treating what he says is his first "knitting injury".  He's a barrel of monkeys...
Too Dumb to Live!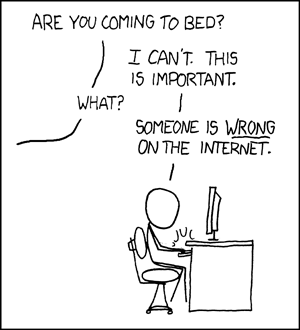 http://imgs.xkcd.com/comics/duty_calls.png
A) Today's joke:  How many preservationists does it take to screw in a lightbulb?  Ten, one to screw in the new light bulb and nine to admire the old one... WHICH DOESN'T WORK ANYMORE!
There is an internet hoopla into which I've injected my opinion.  Surprise.  The local all-girls high school from which my daughter is soon to graduate (God willing) is gearing up to make some changes.  This institution (along with a few of its buildings) is more than 125 years old and has been educating young South St. Louis women for that long.  It was begun by an order of nuns, several of whom I count as close friends, and is their mission.  Sadly, the order is an aging one, as are many religious orders, and maintaining the school and it's physical plant has begun to be a drain on their resources.
For the last several years, stake holders at the school have spent time developing a plan to keep the school thriving ... or even open.  The plan has two phases.  The first phase is to raise several millions of dollars to fund a tuition endowment (to help low income girls attend and keep the school a viable option for our urban poor) and fund renovations to the 1957 building.  Good.  
The second phase is where the problems lie.  In that plan, the stake holders have explored tearing down one of the older buildings to make room for a performing arts center (music and theater being strengths of the school).  Let the hoopla begin.
A local blogger (whom neighbors are quoting as if he's a journalist with journalistic ethics and a journalist's passing nod to unbiased reporting) got wind of the plans and has blogged about the gloom and doom of the second phase of this plan.  He can't have actually read the whole plan because it's clear that the possible demolition of the venerable 128 year old school building is years off if it even happens.  He blogged about it anyway, though, and he's got local panties in a twist, that's for sure.  Mine included, I suppose.  
I've left comments to both of his posts, which neighbors are referring to as "articles" when they forward the links around, reminding the melee that what they're discussing so urgently and stridently is PHASE TWO of the MULTI MILLION DOLLAR PLAN which is likely at least 8 or 10 years away and could we please discuss whether or not the school WILL STAY OPEN!  
Christ in pancakes, I'm ready to kill someone.
So help me, if this tempest in a teacup impacts one bit the efforts we're making to raise money TO EDUCATE CHILDREN ... well, I don't know what I'll do.  
Anyway, hubster wants me to calm down and stay out of it.  
Hey, at least I didn't leave the preservationist joke in the comments of the blog.  Internet benevolence points to me.
An aside:  Ravelry Rubberneckers?  This post looks and sounds like Ranch Dressing.  I'm officially crazy.